SHIMMER WOMEN'S WRESTLING RETURNS TO ACTION THIS WEEKEND IN CHICAGO, FULL DETAILS
By
Mike Johnson
on 7/4/2017 11:05 AM
Follow SHIMMER on Twitter
www.twitter.com/shimmerwomen

Like SHIMMER on Facebook
www.facebook.com/shimmerwomen

Follow SHIMMER on Instagram
www.instagram.com/shimmerwomen


THIS WEEKEND! SHIMMER 92-95 IN BERWYN!!




We're less than a week away from the return of SHIMMER - WOMEN ATHLETES to the Chicagoland area! This time around, all of the events will take place at the Berwyn Eagles Club (6309 26th Street) in Berwyn, IL!

It all kicks off on Friday night, July 7th with RISE 3! Bell time is 8pm. The RISE events are focused on developing tomorrow's women athletes. Twenty female independent wrestlers will be participating in a training camp with Dr. Tom Prichard that afternoon. The standout competitors from the training camp will comprise the roster for the live event that evening, alongside several SHIMMER and RISE regulars! Already signed for RISE 3 on Friday, July 7th: Phoenix of RISE Champion Shotzi Blackheart defends against Angel Dust in a Dog Collar Match, Rosemary will take on Delilah Doom, Deonna Purrazzo will face Cheerleader Melissa, plus Britt Baker, Chelsea Green, "Fallen Flower" Kikyo, Hudson Envy, Australia's Charli Evans & Jessica Troy, and more! First row reserved seating for RISE 3 is already sold out. Second row reserved seats ($20) and general admission seats ($10) are still available, either in advance at www.WrestlingPipeline.com, or at the door on the night of the show.

SHIMMER 92 & 93 will take place on Saturday, July 8th. Bell time on Saturday is 2pm. SHIMMER 94 & 95 will take place on Sunday, July 9th. Bell time on Sunday is Noon. The events are suitable for all ages.

Over thirty of the top female professional wrestlers from around the world will be a part of the SHIMMER 92-95 events! Already announced for participation are: SHIMMER Champion "The Latina Sensation" Mercedes Martinez, Heart of SHIMMER Champion Nicole Savoy, SHIMMER Tag Team Champions Mount Tessa, "The Punisher" Madison Eagles, Mia Yim, "The Hardcore Daredevil" Kay Lee Ray, LuFisto, "The Havok Death Machine" Jessicka Havok, "Queen of Spades" Shayna Baszler, Cheerleader Melissa, "Demon Assassin" Courtney Rush, Leva Bates, Shazza McKenzie, the returning Ashley Lane (aka Madison Rayne), Cherry Bomb, "Gem City Queen" Nevaeh, "AK-47" Allysin Kay, Veda Scott, Hudson Envy, "The Lost Girl" Samantha Heights, Kc Spinelli, Taeler Hendrix, Thunderkitty, Shotzi Blackheart, Angel Dust, Britt Baker, Chelsea Green, Delilah Doom, Deonna Purrazzo, Solo Darling, plus more still to be added later this week!

Tickets for the SHIMMER 92-95 events can be purchased at www.SHIMMERwrestling.com. A handful of first row reserved seats ($110 per day) and second row reserved seats ($60 per day) are still available, if you act fast! General admission seats ($30 per day) are also still available. All remaining tickets which are not sold in advance will be available for purchase at the door on the day of the show. Be advised that the Berwyn Eagles Club is a small venue, and once we reach capacity, we cannot sell additional tickets at the door. We strongly encourage the purchase of tickets in advance to guarantee admission on the chance of a sellout.

Join us this weekend in Berwyn for three days of live women's professional wrestling!


SHIMMER DVD RELEASES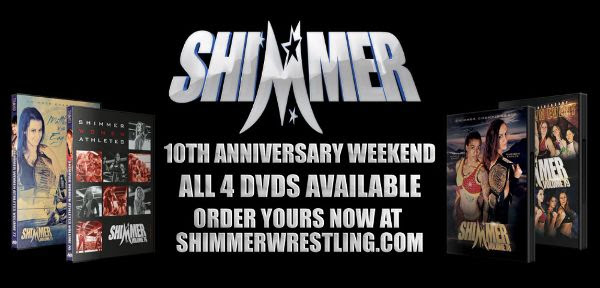 Volumes 76 and 77 in the SHIMMER series are now in stock and available for immediate worldwide shipping. Volumes 78 and 79 will finally be in stock later this week. To place your order for any of those four shows, use the PayPal buttons in the DVD section of www.SHIMMERwrestling.com. (Please be advised that 78 and 79 are pre-order items, which will ship as soon as they are in stock. If you'd like to purchase in-stock DVDs, and would like them shipped sooner than 78 and 79 are available, place separate orders.)

Visit www.SHIMMERwrestling.com to purchase SHIMMER DVD releases online. If you would like to purchase SHIMMER DVDs via money order, E-mail shimmernews@yahoo.com for mail order instructions.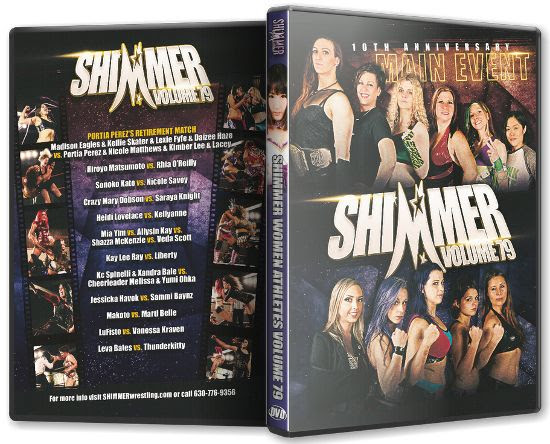 SHIMMER - WOMEN ATHLETES Vol. 79 (DVD PRE-ORDER)

Description:
1. Leva Bates vs. Thunderkitty
2. LuFisto vs. Vanessa Kraven
3. Makoto vs. Marti Belle
4. Jessicka Havok vs. Sammi Baynz
5. Kc Spinelli & Xandra Bale vs. Cheerleader Melissa & Yumi Ohka
6. Kay Lee Ray vs. Liberty
7. Mia Yim vs. Allysin Kay vs Shazza McKenzie vs. Veda Scott
8. Heidi Lovelace vs. Kellyanne
9. Crazy Mary Dobson vs. Saraya Knight
10. Sonoko Kato vs. Nicole Savoy
11. Hiroyo Matsumoto vs. Rhia O'Reilly
12. Portia Perez's Retirement Match: Madison Eagles & Kellie Skater & Lexie Fyfe & Daizee Haze vs. Portia Perez & Nicole Matthews & Kimber Lee & Lacey

Price: $15.00

Pre-order at www.SHIMMERwrestling.com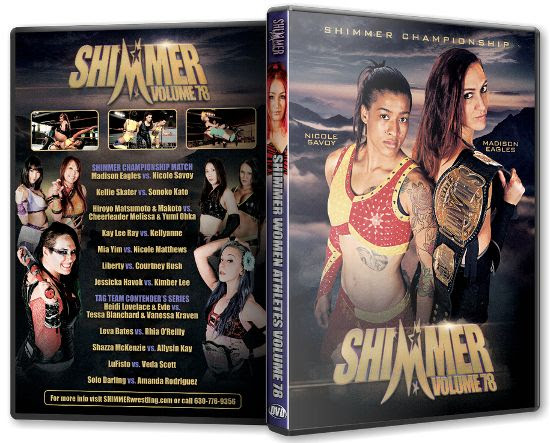 SHIMMER - WOMEN ATHLETES Vol. 78 (DVD PRE-ORDER)

Description:
1. Solo Darling vs. Amanda Rodriguez
2. LuFisto vs. Veda Scott
3. Shazza McKenzie vs. Allysin Kay
4. Leva Bates vs. Rhia O'Reilly
5. Heidi Lovelace & Evie vs. Tessa Blanchard & Vanessa Kraven
6. Jessicka Havok vs. Kimber Lee
7. Liberty vs. Courtney Rush
8. Mia Yim vs. Nicole Matthews
9. Kay Lee Ray vs. Kellyanne
10. Hiroyo Matsumoto & Makoto vs. Cheerleader Melissa & Yumi Ohka
11. Kellie Skater vs. Sonoko Kato
12. SHIMMER Championship Match: Madison Eagles vs. Nicole Savoy

Price: $15.00

Pre-order at www.SHIMMERwrestling.com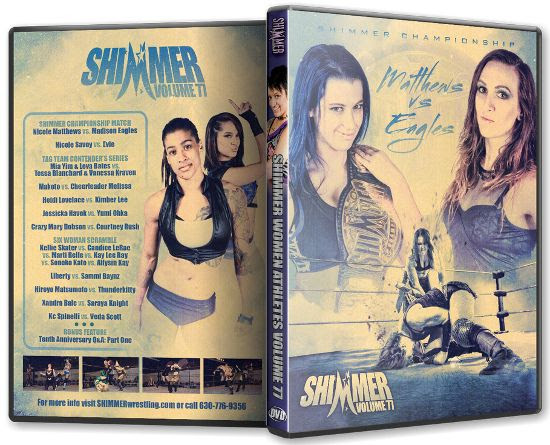 SHIMMER - WOMEN ATHLETES Vol. 77 (DVD)

Description:
1. Kc Spinelli vs. Veda Scott
2. Xandra Bale vs. Saraya Knight
3. Liberty vs. Sammi Baynz
4. Six Woman Scramble: Kellie Skater vs. Candice LeRae vs. Marti Belle vs. Kay Lee Ray vs. Sonoko Kato vs. Allysin Kay
5. Crazy Mary Dobson vs. Courtney Rush
6. Hiroyo Matsumoto vs. Thunderkitty
7. Jessicka Havok vs. Yumi Ohka
8. Heidi Lovelace vs. Kimber Lee
9. Makoto vs. Cheerleader Melissa
10. Mia Yim & Leva Bates vs. Tessa Blanchard & Vanessa Kraven
11. Evie vs. Nicole Savoy
12. SHIMMER Championship Match: Nicole Matthews vs. Madison Eagles

Price: $15.00

Order at www.SHIMMERwrestling.com





SHIMMER - WOMEN ATHLETES Vol. 76 (DVD)

Description:
1. 20 Woman Battle Royal
2. LuFisto vs. Taylor Made
3. Sonoko Kato vs. Kimber Lee
4. Shazza McKenzie vs. Courtney Rush
5. Mia Yim vs. Kellyanne
6. Yumi Ohka vs. Makoto
7. Crazy Mary Dobson vs. Cheerleader Melissa
8. Heidi Lovelace & Evie vs. Saraya Knight & Rhia O'Reilly
9. Hiroyo Matsumoto vs. Nicole Savoy
10. Kellie Skater vs. Kay Lee Ray
11. SHIMMER Championship Match: Nicole Matthews vs. Battle Royal Winner

Price: $15.00

Order at www.SHIMMERwrestling.com





SHIMMER - WOMEN ATHLETES Vol. 75 (DVD)

Description:
1. Shazza McKenzie vs. Marti Belle
2. Crazy Mary Dobson vs. Miss Natural
3. Kay Lee Ray vs. AKINO
4. Jessicka Havok vs. Melanie Cruise
5. Xandra Bale vs. Courtney Rush
6. LuFisto vs. Misaki Ohata
7. Athena vs. Tessa Blanchard
8. Mia Yim vs. Nicole Savoy
9. Candice LeRae vs. Cheerleader Melissa
10. SHIMMER Tag Team Championship Match: Kimber Lee & Cherry Bomb vs. Heidi Lovelace & Evie
11. Madison Eagles vs. Saraya Knight
12. Tomoka Nakagawa's Retirement Match: Kellie Skater & Tomoka Nakagawa vs. Nicole Matthews & Portia Perez

Price: $15.00

Order at www.SHIMMERwrestling.com





SHIMMER - WOMEN ATHLETES Vol. 74 (DVD)

Description:
1. Crazy Mary Dobson vs. Portia Perez
2. Thunderkitty vs. Angelus Layne
3. Mia Yim vs. Kimber Lee vs. Kay Lee Ray vs. Saraya Knight
4. Yumi Ohka vs. Nicole Savoy
5. Shazza McKenzie vs. Melanie Cruise
6. Candice LeRae vs. Cherry Bomb
7. Jessicka Havok vs. Veda Scott
8. Heidi Lovelace & Evie vs. Courtney Rush & Xandra Bale
9. Athena vs. Vanessa Kraven
10. Cheerleader Melissa vs. AKINO
11. SHIMMER Championship Match: Nicole Matthews vs. Madison Eagles
12. Kellie Skater & Tomoka Nakagawa & Hiroyo Matsumoto & Misaki Ohata vs. Aja Kong & Mayumi Ozaki & Dynamite Kansai & Kyoko Kimura

Price: $15.00

Order at www.SHIMMERwrestling.com





SHIMMER - WOMEN ATHLETES Vol. 73 (DVD)

Description:
1. LuFisto vs. Marti Belle
2. Crazy Mary Dobson vs. Melanie Cruise
3. Thunderkitty vs. Cheerleader Melissa
4. Mia Yim vs. Kyoko Kimura
5. Kay Lee Ray vs. Saraya Knight
6. Kellie Skater vs. Evie vs. Nicole Savoy vs. Allysin Kay
7. Athena vs. Tessa Blanchard
8. SHIMMER Tag Team Championship Match: Kimber Lee & Cherry Bomb vs. Courtney Rush & Xandra Bale
9. Heidi Lovelace vs. Misaki Ohata
10. Madison Eagles vs. Portia Perez
11. Tomoka Nakagawa vs. AKINO
12. SHIMMER Championship Match: Nicole Matthews vs. Jessicka Havok

Price: $15.00

Order at www.SHIMMERwrestling.com





SHIMMER - WOMEN ATHLETES Vol. 72 (DVD)

Description:
1. Jessicka Havok vs. Cheerleader Melissa
2. Courtney Rush & Xandra Bale vs. Taylor Made & Allysin Kay
3. Thunderkitty vs. Vanessa Kraven
4. Misaki Ohata vs. Nicole Savoy
5. LuFisto vs. Miss Natural
6. Shazza McKenzie vs. Veda Scott
7. AKINO vs. Portia Perez
8. No Disqualification Match: Evie & Heidi Lovelace vs. Saraya Knight & Mayumi Ozaki
9. Madison Eagles vs. Yumi Ohka
10. Two Out Of Three Falls Match: Athena vs. Mia Yim
11. SHIMMER Tag Team Championship Match: Kellie Skater & Tomoka Nakagawa vs. Kimber Lee & Cherry Bomb
12. SHIMMER Championship Match: Nicole Matthews vs. Kay Lee Ray

Price: $15.00

Order at www.SHIMMERwrestling.com





SHIMMER - WOMEN ATHLETES Vol. 71 (DVD)

Description:
1. Evie vs. Portia Perez
2. Candice LeRae vs. Nicole Savoy
3. Nikki Storm vs. Cherry Bomb
4. Kay Lee Ray vs. Kimber Lee
5. Athena vs. Mia Yim
6. Jessicka Havok vs. Cheerleader Melissa
7. Second Round Tournament Match #1
8. Second Round Tournament Match #2
9. Second Round Tournament Match #3
10. SHIMMER Championship Match: Nicole Matthews vs. Tomoka Nakagawa
11. Three-Way Elimination Tournament Final Match

Price: $15.00

Order at www.SHIMMERwrestling.com


-----------------------------------
SHIMMER Information
630-776-9356
-----------------------------------
Download SHIMMER matches on demand
www.clickwrestle.com/
-----------------------------------
Visit the SHIMMER web site
www.shimmerwrestling.com/
-----------------------------------
---