HUGE TALENT SEMINAR IN UK AND MORE: SHIMMER NEWS AND NOTES
By
Mike Johnson
on 9/2/2017 12:01 PM
SHIMMER – WOMEN ATHLETES News for Sept. 1, 2017
Follow SHIMMER on Twitter
www.twitter.com/shimmerwomen
Like SHIMMER on Facebook
www.facebook.com/shimmerwomen
Follow SHIMMER on Instagram
www.instagram.com/shimmerwomen
TALENT EVALUATION SEPT. 15 I N NORWICH, ENGLAND!
On Friday, September 15th in Norwich, England, WAW and RISE will host a World Class Development Seminar facilitated by SHIMMER Champion Mercedes Martinez and WWE Hall of Famer Madusa/Alundra Blayze. The six hour session, open to both female and male wrestlers, will take place at WAW House. SHIMMER Executive Producer/Talent Coodinator Dave Prazak and Associate Producer Kevin Harvey will join WAW's Ricky & Saraya Knight and British Empire Wrestling's Declan Kellett in the group that will be scouting talent as part the day's events.
Prazak posted on social media: "European women wrestlers! I'm heading to Norwich, England in 2 weeks to scout the talent participating in the Madusa & Mercedes Martinez seminar. For those who aspire to join the SHIMMER roster in the future, it would be in your best interest to be in the ring learning from these two veteran athletes in 2 weeks. I rarely watch demos or YouTube videos to evaluate potential roster additions, as working with talent in person makes a much more complete impression. This is an opportunity."
Wrestlers interested in signing up for the seminar should E-mail kevin@wrestlingpipeline.com with the Subject: RISE 4.
"WARRIORS RISE" LIVE EVENT & iPPV!
In addition to the training seminar, a live event will take place during the evening of September 15th at Epic Studios (112-114 Magdalen Street) in Norwich. "Warriors Rise" will be co-promoted as both RISE 4 and Bellatrix 26, featuring talent from around the world. Among those appearing are SHIMMER Champion Mercedes Martinez, Phoenix of RISE Champion Shotzi Blackheart, Bellatrix Champion Alex Windsor, British Ladies Champion Skarlett, Chelsea Green, Deonna Purrazzo, Rosemary, Dust, Charli Evans, Jewells Malone, Lory, Queen Maya, Jetta, Violet O'Hara, Shax, Erin Angel, and more.
Visit tinyurl.com/ycu8tt3x for Warr iors Rise tickets.
Visit wrestlingpipeline.com/ippv/ to order the live iPPV.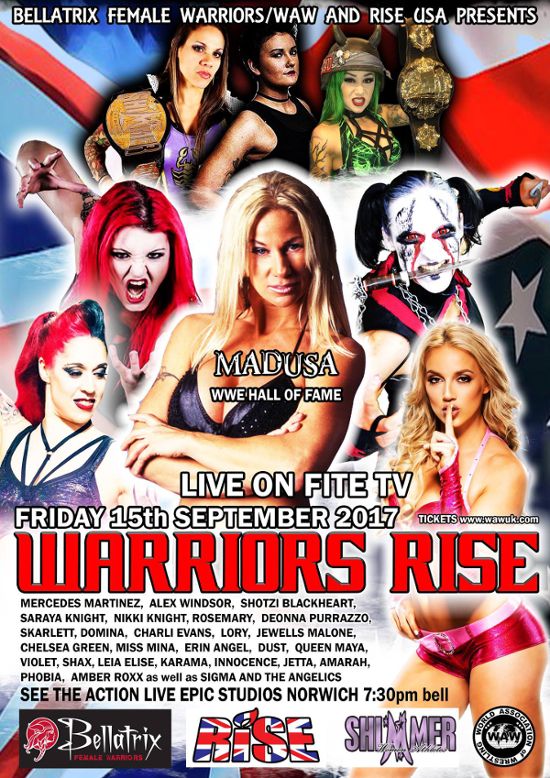 RESERVED SEATING FOR SHIMMER 96-99 NOW ON SALE!
The next live events for SHIMMER Women Athletes will take place on Saturday & Sunday, November 11th & 12th, at the Berwyn Eagles Club (6309 26th Street) in Berwyn, IL. Volumes 96-99 in the SHIMMER series will take place that weekend. Bell time on Saturday, November 11th will be 2PM. Bell time on Sunday, November 12th will be Noon. Reserved ringside tickets (the first two rows) are now on sale at www.SHIMMERwrestling.com! General admission tickets for the events will go on sale later this month.
Additionally, tickets for the RISE 5 event, which will be held on Friday, November 10th (also at the Eagles Club), can now be purchased at www.wrestlingpipeline.com. Experienced female wrestlers interested in registering for the November 10th World Class Development Seminar prior to the RISE 5 event are encouraged to contact Kevin Harvey at kevin@wrestlingpipeline.com for further information.
---