Quick Links
TOMORROW, FRIDAY, APRIL 20 - LUCHA MANIA IN WATERBURY, CT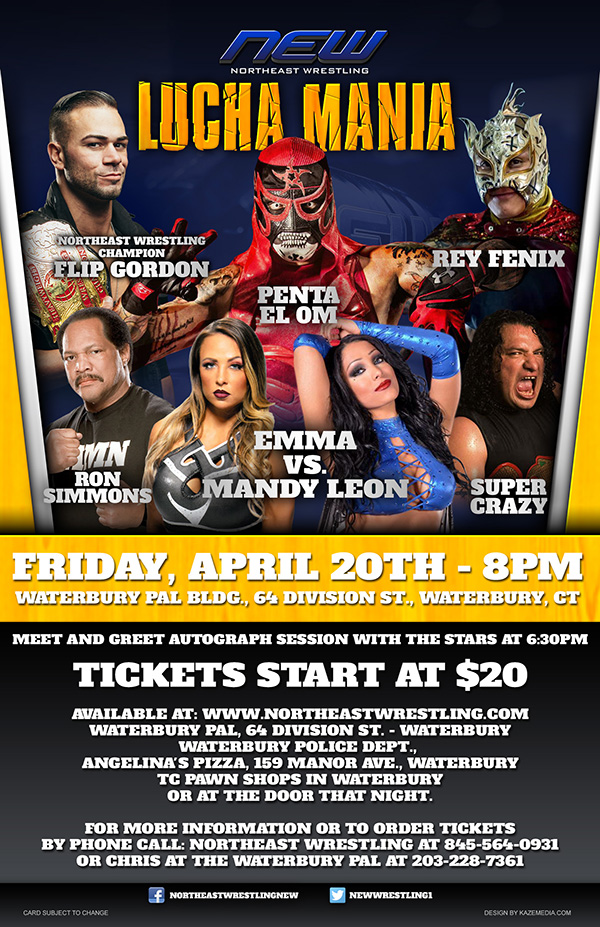 Northeast Wrestling will present Lucha Mania on Friday, April 20 at the Waterbury PAL (64 Division St) in Waterbury, CT. A meet and greet with the stars will be held at 6:30 p.m. Belltime is 8 p.m.


SCHEDULED TO APPEAR . . .


NORTHEAST WRESTLING TITLE MATCH
FLIP GORDON VS. PENTA EL ZERO M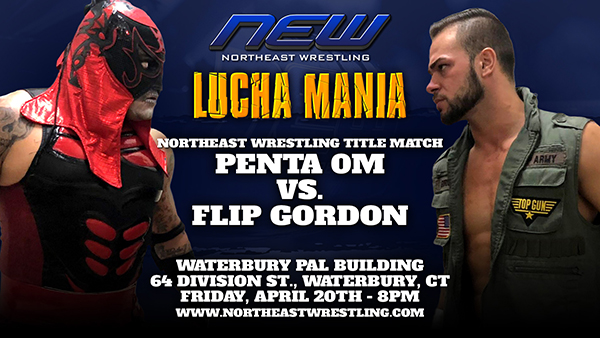 ---
CHRISTIAN CASANOVA VS. REY FENIX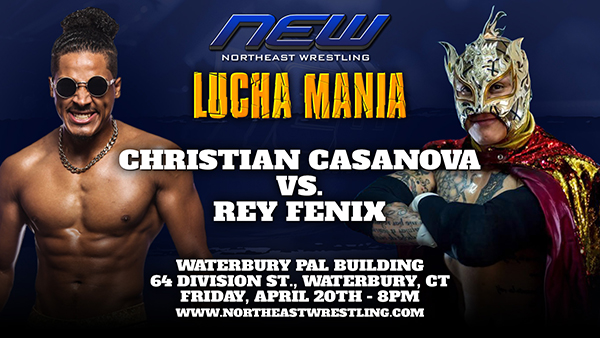 ---
---
TENILLE FKA EMMA VS. MANDY LEON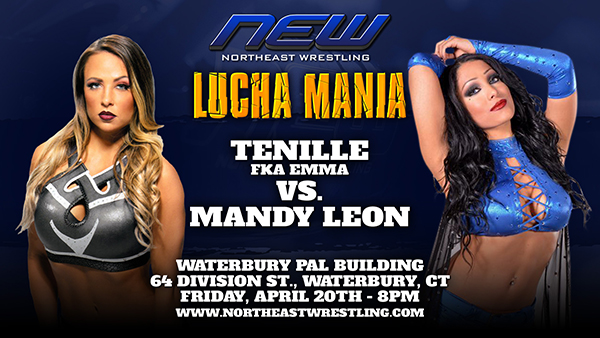 ---
SIX MAN TAG
KING BRIAN & THE AMAZING GRAYSONS VS. RON ZOMBIE & ADRENALINE RUSH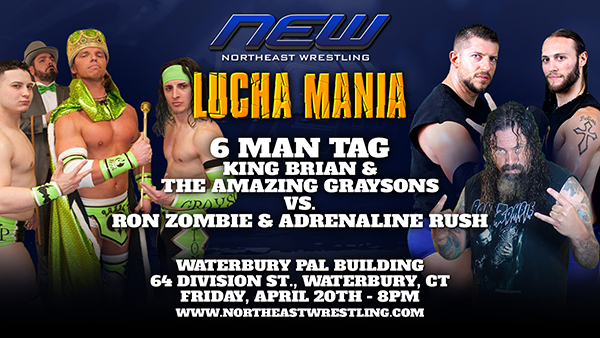 ---
BULL DREDD VS. CHRIS BATTLE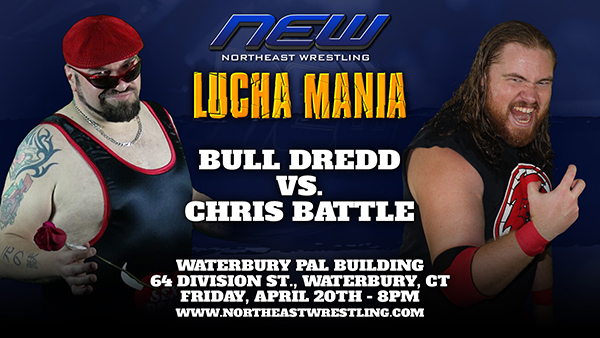 ---
TAG TEAM WAR
BRAD HOLLISTER & JOSH BRIGGS VS. BRIAN MILONAS & WRECKING BALL LEGURSKY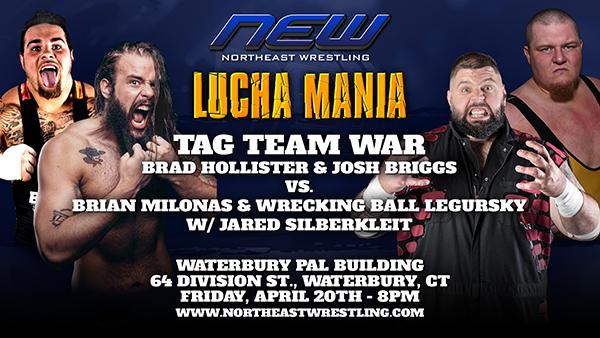 ---
CLICK HERE TO ORDER TICKETS
CLICK HERE TO PRE-ORDER
AUTOGRAPHS & PHOTO OPS
THIS SATURDAY, APRIL 21: SPRING SLAM AT THE NEW ARENA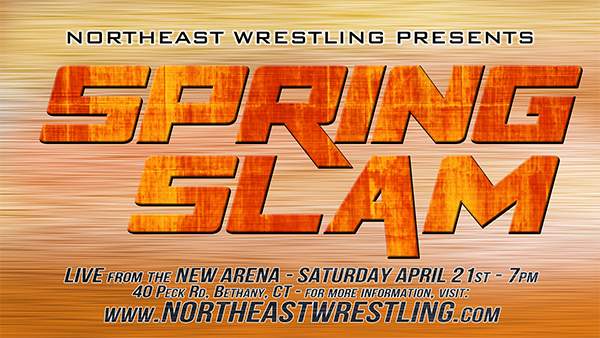 Northeast Wrestling will return to the NEW Arena (40 Peck Road) in Bethany, CT on Saturday, April 21. Bell time is 7 p.m.


SCHEDULED TO APPEAR . . .


NORTHEAST WRESTLING CHAMPIONSHIP MATCH
FLIP GORDON VS. WRECKING BALL LEGURSKY W/ JARED SILBERKLEIT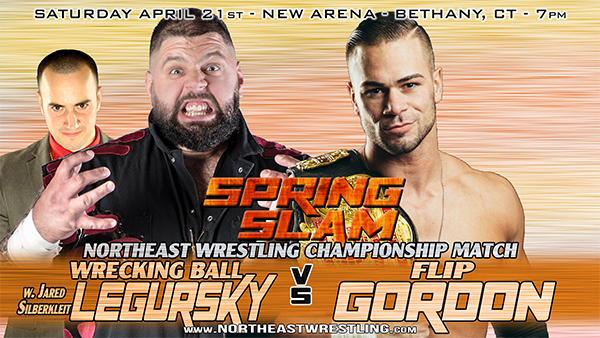 ---
NORTHEAST WRESTLING TAG TEAM CHAMPIONSHIP MATCH
ROBBIE E & CAM ZAGAMI VS. ADRENALINE RUSH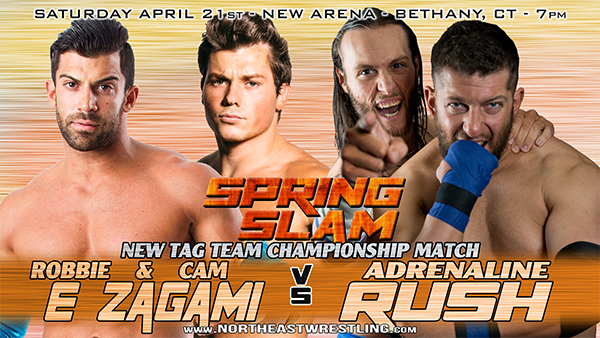 ---
MAN SCOUT JAKE MANNING VS. KING BRIAN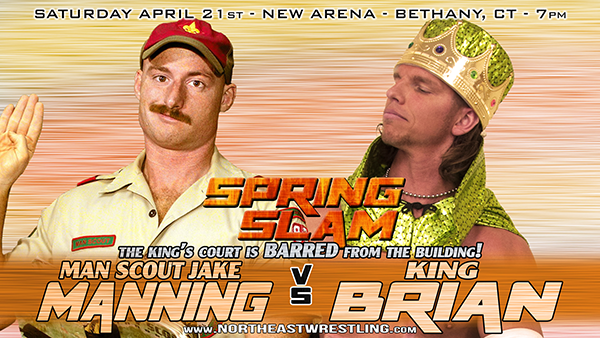 ---
"BIG BACON" BRAD HOLLISTER VS. JT DUNN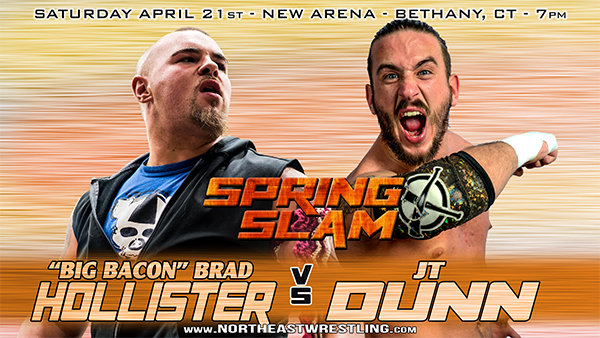 ---
KINGPIN BRIAN MILONAS W/ JARED SILBERKLEIT VS. JOSH BRIGGS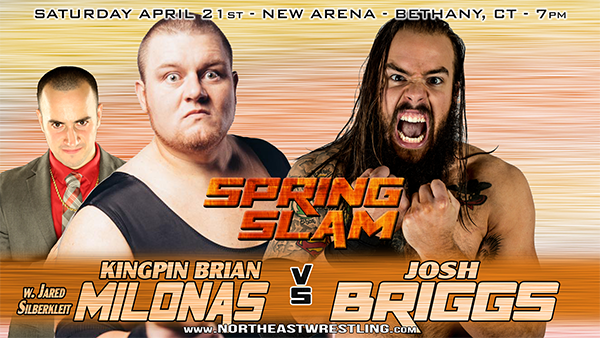 ---
CHRISTIAN CASANOVA VS. "RED LION" CHRIS BATTLE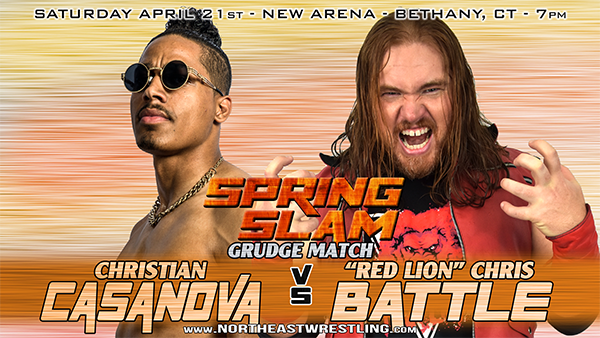 ---
PENELOPE FORD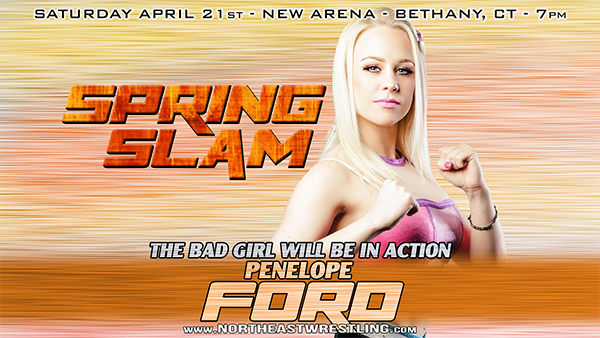 ---
INZANELY RUDE VS. DEXTER LOUX & MIKE GAMBLE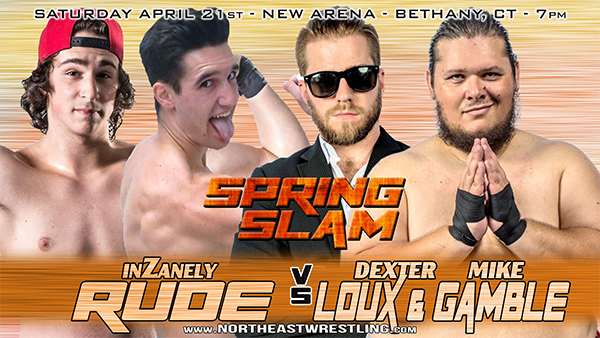 ---
HALE COLLINS W/ KASEY CATAL VS. RON ZOMBIE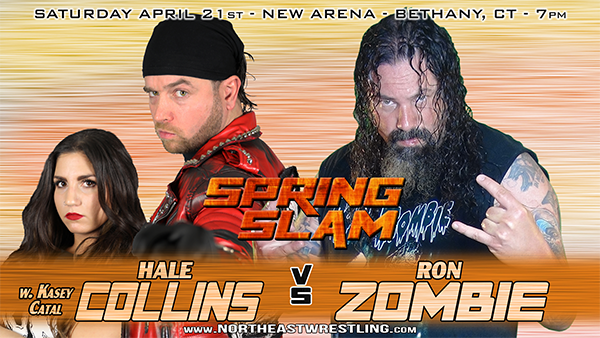 CLICK HERE TO ORDER TICKETS
MARCH MAYHEM 2018 NOW ON DVD AND STREAMING ONLINE!


March Mayhem 2018 is now available to order on DVD for only $15!
Adrenaline Rush vs. Dexter Loux & The American Sumo Mike Gamble
King Pin Brian Milonas vs. Brett Domino
Killanova Christian Casanova vs. "The Red Lion" Chris Battle
Darby Allin vs. JT Dunn
Josh Briggs vs. Wrecking Ball Legursky
Penelope Ford vs. Delmi Exo
Brad Hollister vs. The Amazing Graysons
Northeast Wrestling Tag Team Title Match: Robbie E & Cam Zagami vs. Inzanely Rude - RJ Rude & Zane Bernardo
Northeast Wrestling Title Match: Flip Gordon vs. Joey Mercury
You can also watch streaming online via Pivotshare or Highspots!
CLICK HERE TO ENTER OUR DVD STORE
SATURDAY, JULY 7: LONG LIVE THE KING AT THE NEW ARENA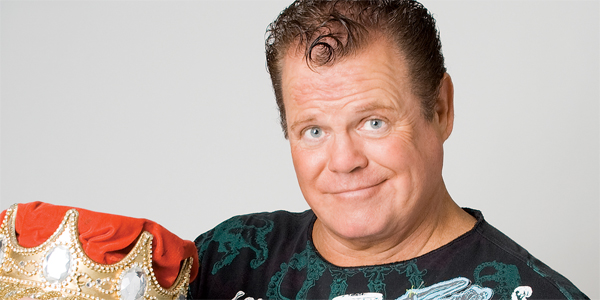 Northeast Wrestling will return to the NEW Arena (40 Peck Road) in Bethany, CT on Saturday, July 7 with "Long Live the King" featuring Jerry "The King" Lawler. Bell time is 7 p.m. All tickets are $20 so order yours today to get the best seats!

AUGUST 4: WRESTLING UNDER THE STARS 7 AT DUTCHESS STADIUM


Northeast Wrestling will present Wrestling Under the Stars 7 on Saturday, August 4, 2018 at Dutchess Stadium in Wappingers Falls, NY. Bell time is 7 p.m.


SCHEDULED TO APPEAR . . .


NORTHEAST WRESTLING CHAMPION
FLIP GORDON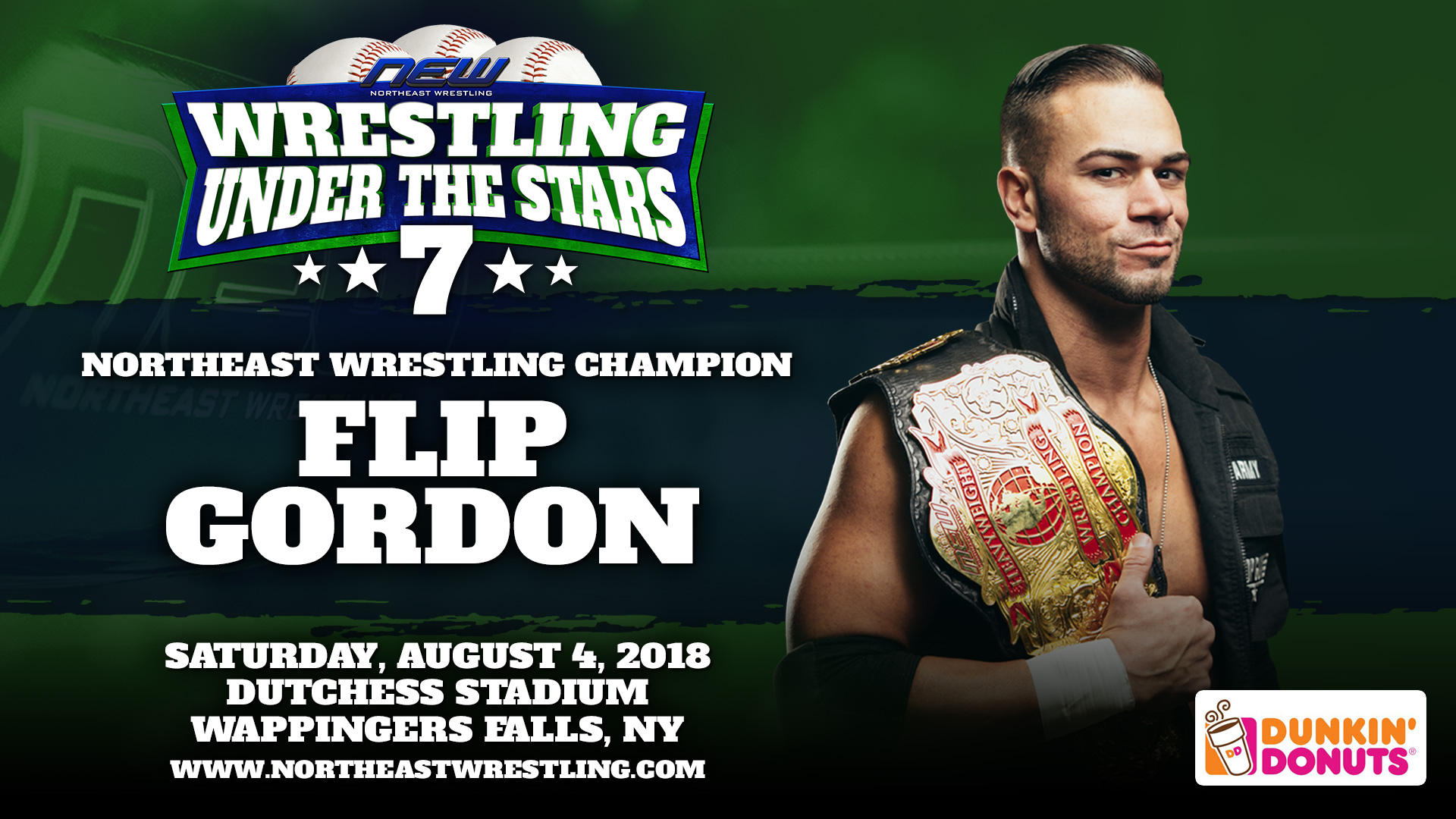 ---
REY MYSTERIO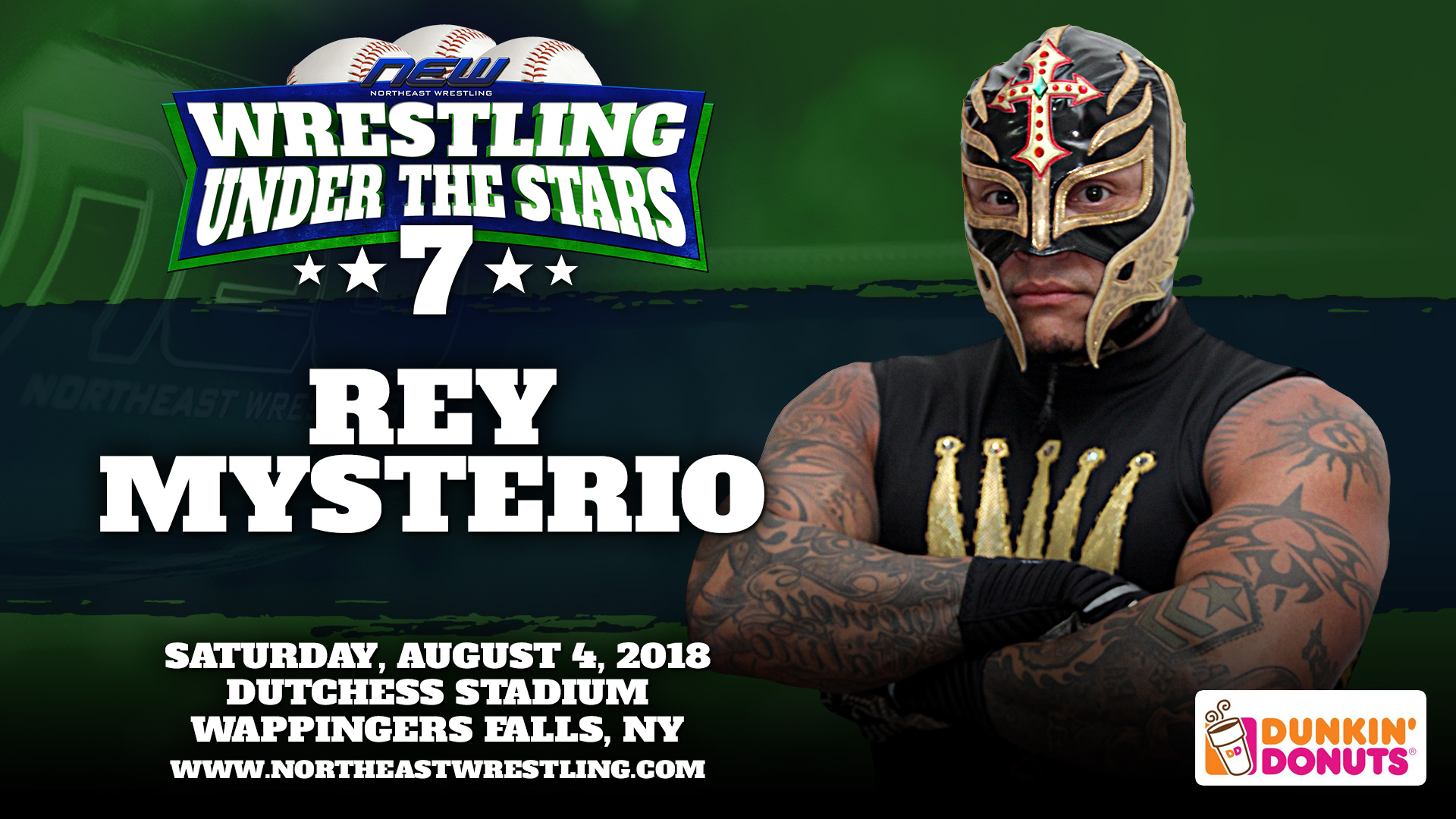 ---
HALE COLLINS & KASEY CATAL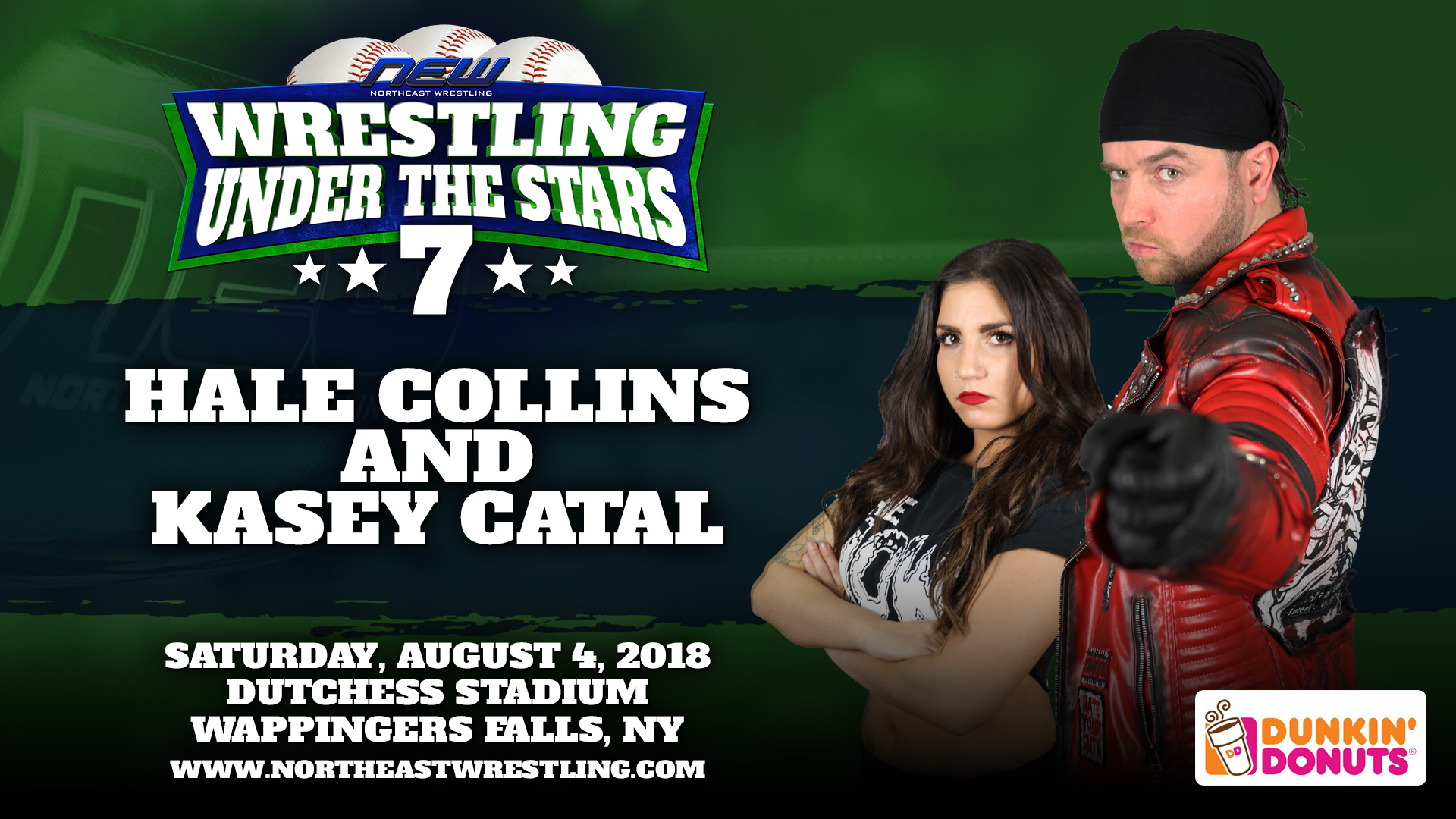 SEARCHING FOR A FUN, PROFITABLE FUNDRAISER?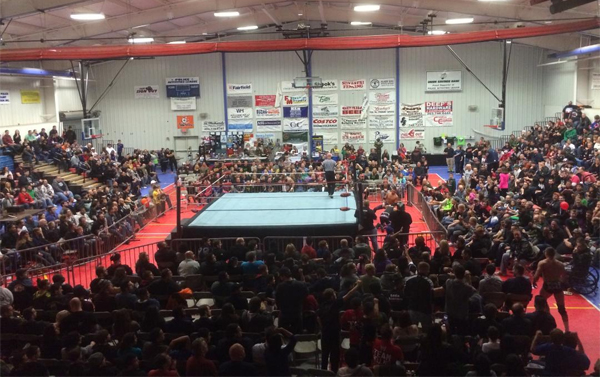 Is your organization looking for a fun and profitable fundraiser?
Northeast Wrestling brings the action of family friendly pro wrestling to high schools, colleges, armories, fairs and stadiums. We have raised significant funds for schools, fire departments, youth groups and all other non-profit organizations.
Michael Lombardi
Northeast Wrestling
ALL NORTHEAST WRESTLING TICKET SALES ARE FINAL. NO REFUNDS OR EXCHANGES
CARD SUBJECT TO CHANGE.